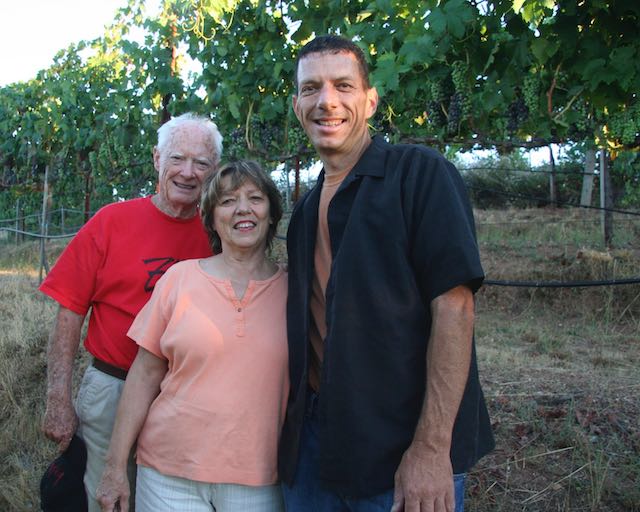 With the same first and last name, and decades in the Sonoma County wine business, dad and I are often mistaken for each other. Dad was born on Long Island, New York in 1931, married Mom and came out west in 1958, driving the historic Route 66 to Los Angeles where he began a career as a chemical engineer. With dreams of becoming a gentleman farmer, dad originally sought out orange groves in Southern California, eventually visiting the wine country of Sonoma County, and falling in love with Dry Creek Valley. He purchased a vineyard of Cabernet Sauvignon in Dry Creek Valley in 1975.
The family learned the ropes of farming, and in 1981, began producing wines under our own label, Charis Vineyards, until 1985. (When asked why not label the wines "Florence Vineyard?" dad would reply that he was saving that name for a time in the future when we would perfect the operation, maybe even an actual production facility.) It was an exciting time for the family, but eventually, dad gave up the custom-crush winery, and delved into writing, publishing two books on wine country history, A Noble Heritage, (1993) the story of Dry Creek Valley, and Legacy of a Village (1999), about the Italian Swiss Colony winery.
After I acquired the property on Rockpile Road in 1992, mom and dad would visit and became fond as well of the beautiful setting away from the increasingly busy Dry Creek Valley. Dad, expecting mom to outlive him, thought it would be advantageous to move to Rockpile so that we would be closer. So by 1996 we were neighbors again, and by the millennium dad had his own vines on Rockpile, this time, following in his son's foot prints, planting Zinfandel (St. Peters' clone), Petit Sirah, and Syrah and selling the grapes to Rosenblum Cellars and Carol Shelton Winery.
In 2001, dad joined with Rod Park of Rockpile Vineyard, and myself in an application for a new AVA (American Viticultural Area): Rockpile. Park provided the historical context for the appellation, myself, the climate and soil information needed to demonstrate a unique area, and dad spearheaded the application process, following up with BATF (the Bureau of Alcohol, Tobacco and Firearms) with his trademark persistence and diligence, until the appellation was approved in 2002.
Although I would often sense that the love of farming I had came from the Italian farmers on my mom's side of the family, dad had an inherent sense of the business of farming, and had a natural talent for the personal relations, the schmoozing involved in the vineyard business, as well as the financial sensibilities for negotiating contracts and working with winery clients. At the time of this writing in 2022, mom and dad live in retirement in Santa Rosa, where dad has been working on a third book, about appellations and his life in the wine business.