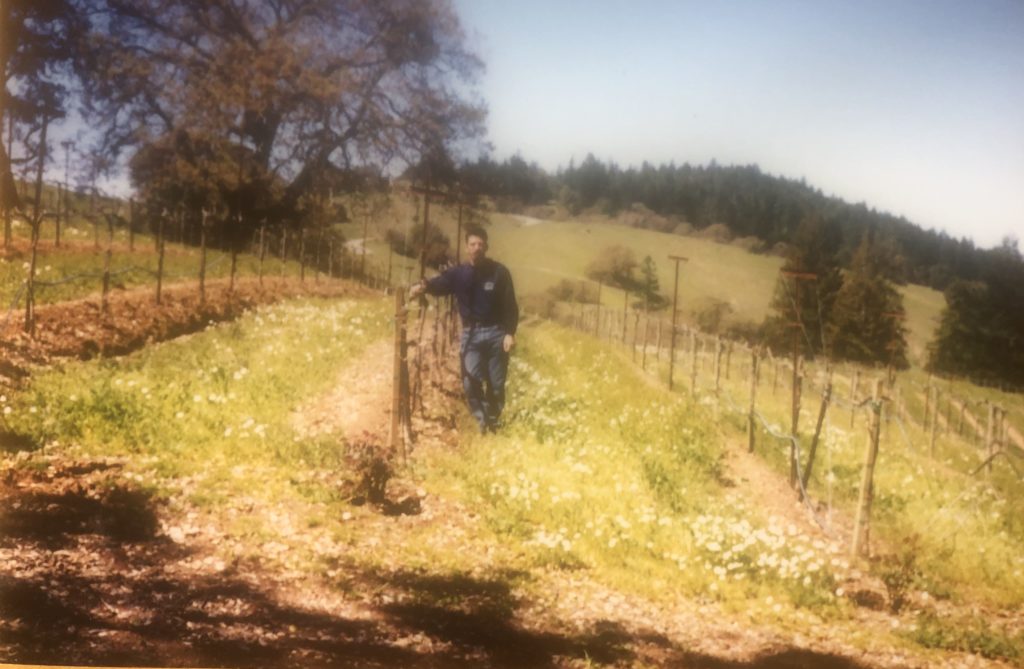 The story of how Zinfandel came to Rockpile, and the founding of the AVA.
I first drove out Rockpile Road on a February day in 1992, after my mom showed me an add in the paper, for lots for sale in the Lake Sonoma Ranch Estates. I was immediately impressed by the quiet, rugged, mountainous beauty of this no-man's-land, on a good road just twenty minutes from home in Dry Creek Valley. I was 29, and at six years in the vineyard management business, was looking for a place of my own. I'd had enough experience to know that tall grass and Redwood trees are a sign of good soil, and the other benefits of mountain viticulture, that this location, 1200 feet above sea level, had to offer. So great was my enthusiasm, that I didn't even conduct a basic soil test, before making an offer and eventually purchasing the 116 acre property just a few weeks later. I planted my first block of vines in 1994, and when the time came for grafting in August, I was still unsure of the grape variety I would choose. It was the time of the Merlot craze in California, and this variety would likely fetch the best price.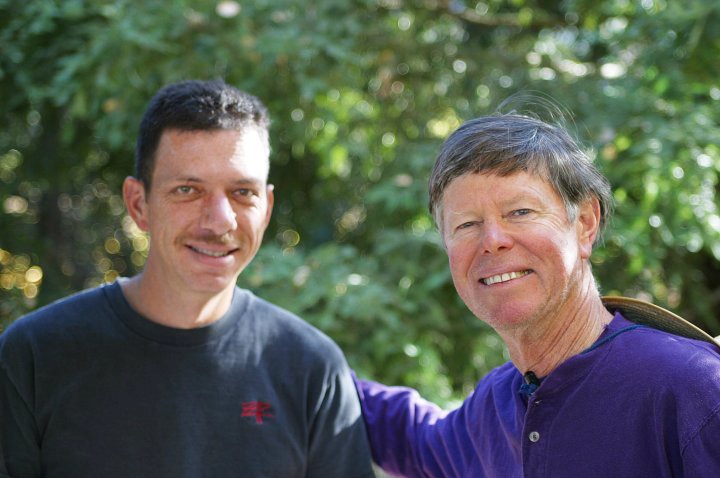 But a few weeks earlier….
some new vineyard clients of mine, Cheri Kratka and Marshall Harris (pictured right), had introduced me to Zinfandel and Rosenblum Cellars, and their infectious enthusiasm was making me want to do something bold, and plant Zinfandel, which would do particularly well at this location. If I did it, I knew just the vineyard from which to source my budwood, the St. Peters Church vineyard (below) in Cloverdale, which I had been farming for several years, and knew to have great flavors, color, and, something rare in old vineyards, no apparent signs of leaf roll virus. In fact, this 19th vineyard was so old, it was planted before leaf roll virus began to be spread by planting stock. Making up my mind, the next step was to talk to Kent Rosenblum about working together. Not only did Rosenblum have an unsurpassed reputation for making award winning vineyard designate Zinfandels, but Kent brought me a case of wine when he came out to visit, so that I could try for myself.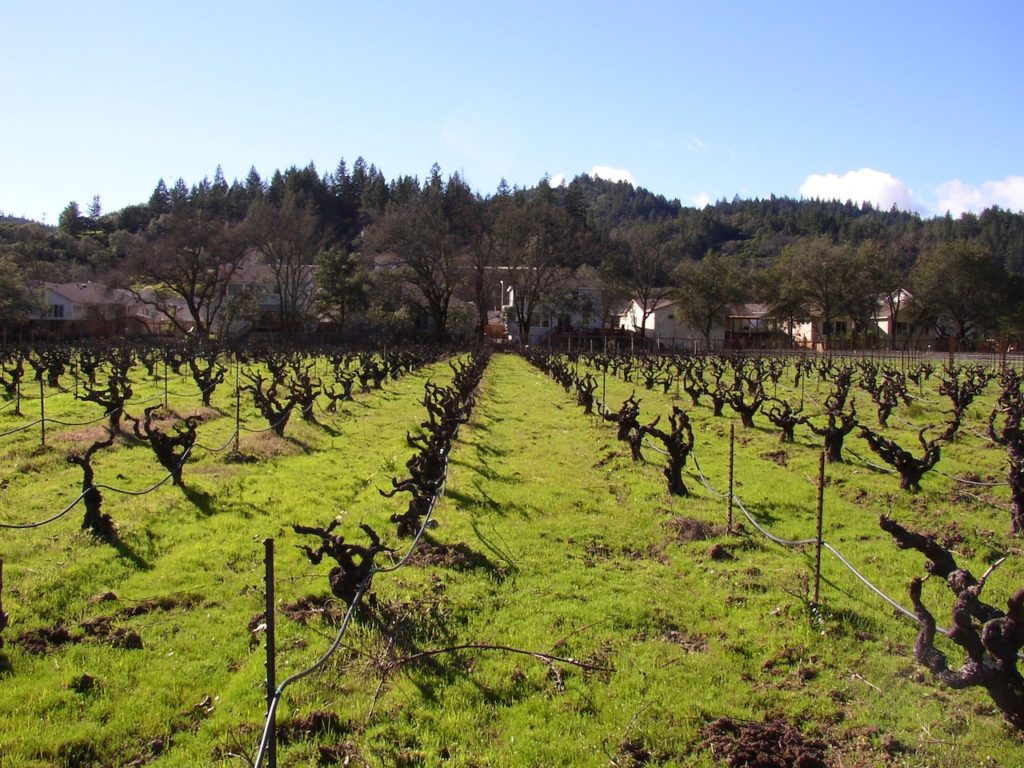 Over the coming weeks….
I would try these wines at dinner, with Mom and Dad, and even though selling grapes from Sonoma County to an Alameda based winery raised some eyebrows among the locals, it was a no-brainer decision, and one that would change the course of history for these empty hills of Rockpile forever. The wines began with the 1996 vintage, and were an immediate sensation. Over the next few years I planted vineyards for my neighbors, including Peter Cooper and Robin Pressman (which would become the Ramsey vineyard and today Thomas vineyard), Mick Lumetta (which would become the Biedermann's Boticelli Vineyard), and my parents, Fran and Jack Florence, Sr.,(pictured below) whose vineyard was recently acquired by Lori Hunt and Mark Zuckerman in 2015. I planted all of these vineyards to the same clone of Zinfandel, which helped give early Rockpile wines a remarkable consistency.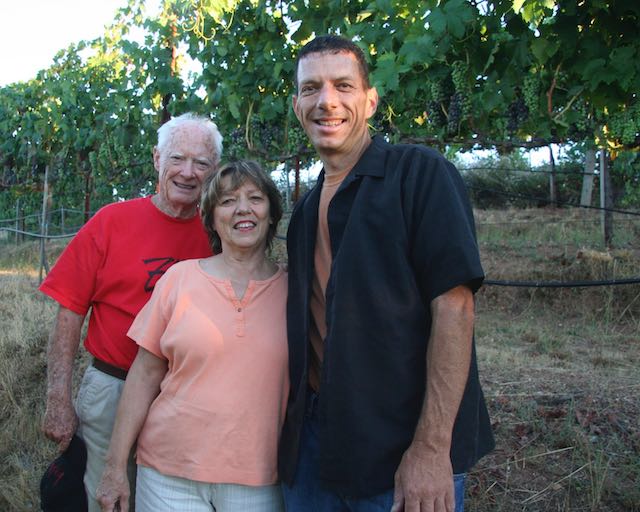 For a time I thought…
I had planted the first vineyard at Rockpile, until Rod Park stopped in one day to say hello, on his way home another thirty minutes up the hills. Rod and Cathy Park, the true pioneers, had planted Cabernet Sauvignon a couple of years prior, on "Rockpile Ranch", now Rockpile Vineyard, owned by Ken and Diane Wilson.
In 2001, at one of our many wine tasting parties underneath the oaks, dad and I were talking with wine buyer Les Ferguson, who suggested to us that we petition to start a Rockpile appellation. Over the next year, Dad, Rod and myself teamed up, working together on the application for Rockpile AVA (American Viticultural Area), which was granted the following year.
Although vineyards would certainly have come to Rockpile eventually, I like to think my efforts, and the decisions I made, ended up having some effect on the character of the appellation we have today.